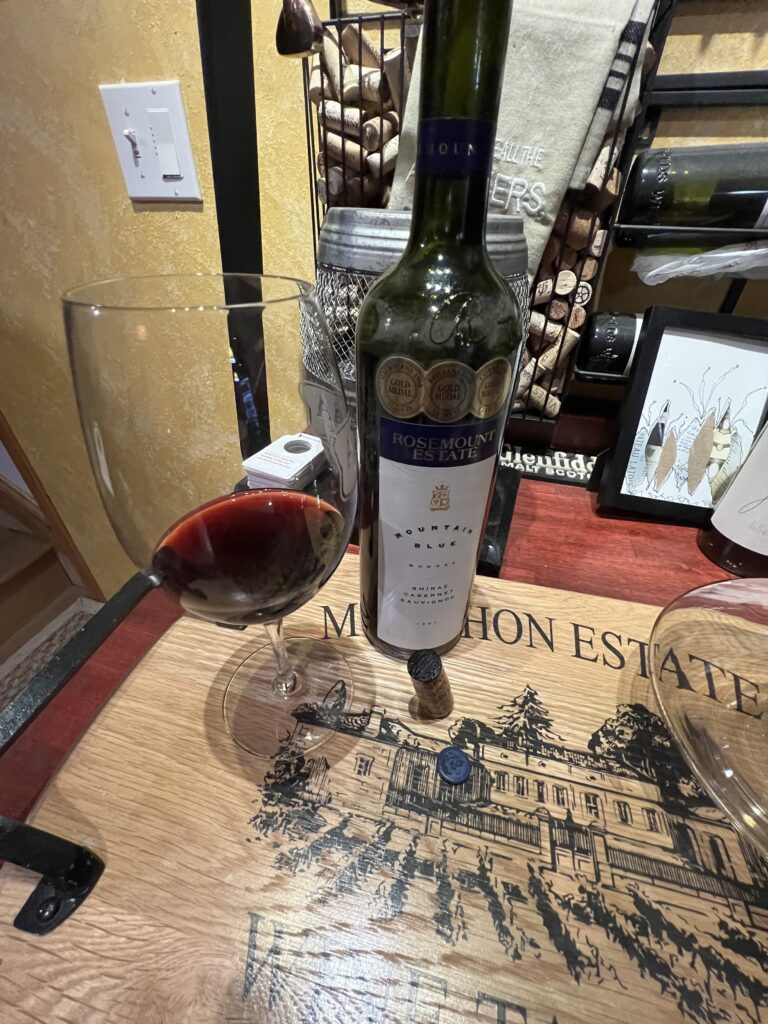 Wine Name: 1997 Rosemount Estate Mountain Blue Varietal: Shiraz-Cabernet Sauvignon blend Region: Mudgee, New South Wales, Australia
if you can find it cost sis about $50
I purchased 2 bottles for $10 each at Brentwood wine auctions.
https://www.brentwoodwine.com
Appearance: The 1997 Rosemount Estate Mountain Blue displays a deep garnet color with a slight brick hue around the edges, indicating its age.
Note: how dark the cork is near black drinking this 26 years later.
Nose: On the nose, this wine offers an expressive bouquet of ripe blackberries, black cherries, and cassis, complemented by hints of dried herbs, tobacco, and eucalyptus. There are also subtle notes of leather, cedar, and earthy undertones, which have developed over time.
Palate: The palate reveals a well-structured wine, offering a medium to full body with velvety tannins and balanced acidity. The flavors of ripe dark fruits are supported by layers of sweet spices, such as vanilla and cinnamon, as well as savory nuances of smoked meat and dark chocolate. The integration of oak is noticeable, lending a toasty character to the wine.
Finish: The 1997 Rosemount Estate Mountain Blue has a long, persistent finish, showcasing the harmony of fruit, spice, and oak. The tertiary characteristics have evolved beautifully, providing a pleasurable drinking experience.
Overall: The 1997 Rosemount Estate Mountain Blue is an elegant and complex Shiraz-Cabernet Sauvignon blend that has aged gracefully. Its balance of fruit, oak, and tertiary flavors showcases the winemaking prowess of Rosemount Estate. While this wine is drinking beautifully now, it may still have a few years left in its optimal drinking window. Yes I got lucky with this bottle, and one more to go.
I decanted this wine for an hour and was perfect timing.