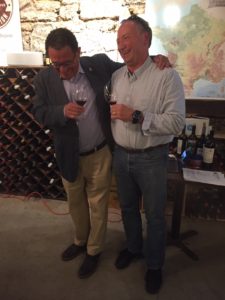 A wonderful evening was had with Master Sommelier Thomas Price. The 190th persons to pass the Court of Master Sommelier.
I would love to tell you all about it but I have been sworn to secrecy about what really went on during the evening.  All kidding aside I can say that I haven't laughed this much at a Wine Tasting/Seminar ever.
Mr. Price was one of four people to pass his Master Sommelier exam in 2012 (see the San Francisco Gate article) while working at the Metropolitan Grill in Seattle. Since then he has become the National Director of Wine Education for Jackson Family Wines, for whom he provides deep wine education and training services around the country.
What I can talk about is that we tasted some of the Kendall Jackson top tier wines.  Our first flight of wines was
A1. Santa Maria Valley2016 Jackson Estate Chardonnay.
Ripe Fruit with a buttery/creamy vanilla and a hint of apricot.
A.2 Gran Moraine Chardonnay, 2014 – Yamhill Carlton.
Definitely a Oregon white, with clean crisp taste. Lemon on the nose with hints of cucumber and pear with a nice clean finish.
A.3 Gran Moraine Pinot Noir, 2014 – Yamhill–Carlton
Blackberry on the nose with Black cherry tones and a smooth finish and mild tannin.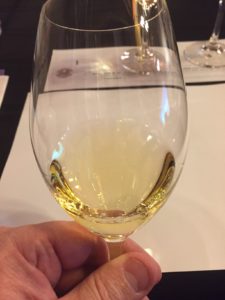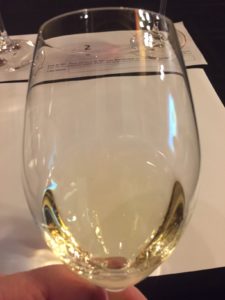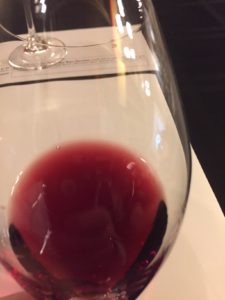 Our Second flight of wines was:
B1. Stonestreet Estate Cabernet Sauvignon 2014 from Alexander Valley
Right off the bat I got a sense of Red currant and darker fruits with a taste of pepper corn and a nice long finish.
B2. Stonestreet Rockfall Cabernet Sauvignon 2013 from Alexander Valley
Right out of the bottle I loved this Cab. A really full bodied red with tones of black cherry and lush black fruits. Raockfall has cellared well and is coming of age perfectly. (favorite of the night)
B3. Jackson Estate Hawkeye Mountain Cabernet Sauvignon 2012
Bold, dark and juicy on the palate, with flavors of blackberry , spice box, chocolate, dark spice, black currant, black licorice and black pepper.
The finish is incredibly long, ending in a dry, velevt feeling that spreads across the palate.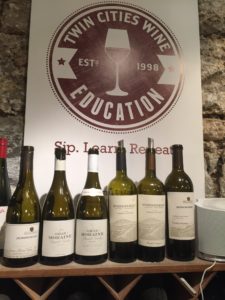 During the evening Thomas regaled us with stories about his ascension to becoming a master and his thoughts on wine tasting and also touching on the effects on wine and altitude.
I highly recommend if you ever get the chance to taste with Thomas to do so. you won't be disappointed.
Thanks to Jason Kallsen at Twin City Wine Education for setting up this wonderful event.